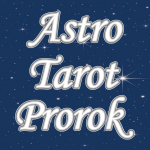 Astro Tarot Prorok
je besplatna aplikacija za android za proricanje sudbine. Zasniva se na kombinaciji tarot metode i astrologije primenom astroloških karata. Astrološke karte i tekstovi koji se koriste su veoma stari, i proricanje se vrši po tradicionalnoj metodi.
Za proricanje sudbine potrebno je samo uneti svoje ime i datum rođenja. Proricanje zavisi od raznih astroloških fenomena, i vezano je za Vaš datum rođenja i moment kada otvarate karte. Korišćenje aplikacije je veoma prosto, poput aplikacija koje za temu imaju horoskop.
Astro Tarot Prorok metoda se zasniva na kombinaciji tarot metode i astrologije pomoću 72 zodijačkih znakova. Dek karata se sastoji od 36 karata, na kojima se nalaze delovi zodijačkih znakova. Karte su podeljene u trougane delove, i proročanstvo se ostvaruje kada se neki zodijački znak sklopi. Svaki zodijački znak ima 4 moguća rešenja – zavisno od toga kakav je njegov položaj (na levo, na desno, normalno ili obrnuto) – i na osnovu toga i odgovarajući izveštaj. Moguće je da se ne spoji nijedan znak, tj. da nema komentara, a moguće je da se spoje i više znakova jednim otvaranjem karata.
Po pravilu možete pitati samo 3 puta dnevno karte za proricanje sudbine, ali možete na istom uređaju ponavljati postupak za više osoba dnevno.
Saznajte svakog dana šta karte imaju da Vam kažu…
---
This is some text prior to the author information. You can change this text from the admin section of WP-Gravatar
 Maher!
Read more from this author
---