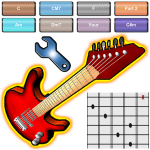 Realna Gitara
je besplatna aplikacija za uređaje sa android operativnim sistemom pogodna za sve muzičare, kompozitore, pevače, profesionalce i amatere. Realna gitara se može koristiti kao solo gitara – vodeća gitara ili ritam gitara. Veoma je laka za korišćenje.
Možete birati 3 gitare:
Vodeća gitara za jednu ruku. Ovo je klasična solo gitara.
Vodeća gitara za dve ruke. Menjate note jednom rukom, a svirate žice drugom rukom.
Ritam gitara – sa akordima. Možete da menjate akorde jednom rukom i svirate posebno žice drugom rukom. Aktivno je 25 akorda. Možete da menjate bilo koji akord na dijagramu, napravite svoj akord i pripremite bilo koju pesmu po želji.
Osobine:
6 žica
23 praga
1000+ specijalnih akorda (C, D#m, A#7b9, E#11+…)
100 grupa sa 25 akorda koje možete da podesite (2500 akorda za podešavanje)
Menjanje akorda po dijagramu
Primer popularnih pesama
Realni zvukovi
Prikaz muzičkih nota za sve žice
Opcije:
Izbor gitara
Veličina gitare
Pomeranje gitare
Štelovanje cele gitare (6 celih muzičkih oktava – 73 muzičkih nota)
Štelovanje svake žice pojedinačno
Štelovanje zvuka – start i korak
Brzina utišavanja zvuka
Izgled gitare, boje…
Kreiranje akorda
Kreiranje grupa
Jedna ruka / dve ruke mod
Realna gitara je odličan izbor za sve muzičare, kompozitore i pevače.
Naučite svirati gitaru i oduševite svoje najdraže…
---
This is some text prior to the author information. You can change this text from the admin section of WP-Gravatar
 Maher!
Read more from this author
---