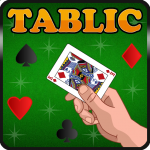 Tablic – TABLIĆ – Multiplayer cards game!
Novosti:
'Online' mod za više igraca!
Dvoboj – duel za 2 igrača!
Grupni čet! Čet u meču!
Komentator – animirani narator u igri!
Sinhronizovani i animirani lik!
Avatar – kreirajte svoj izgled!
Rejting sistem!
Izaberite svoju zastavu!
---
Važno obaveštenje!
Od 03.04.2015. možete igrati uživo u 'multiplayer' modu 'online' sa drugim igračima i sa korisnicima sa android uređajima!
Ako dođe do prevelike gužve, ili potrebe da se plaća server za 'multiplayer' igru, plaćaće se simbolična članarina.
Zasada, uživajte besplatno u najpopularnijoj igri sa kartama na Balkanu – Tablić.
---
Tablić ili Tablanet je popularna igra sa kartama, a ovo je sigurno najbolja android Tablić igra.
Cilj je nositi karte sa talona, pošto izbacite kartu iz ruke, čiju vrednost spajate sa kartom iste vrednosti ili sa zbirom izabranih karata na talonu. Igra se sa punim špilom od 52 karte. Ovako igra počinje: svaki igrač dobija po 6 karata a 4 karte se izbacuju na talon. Svaki igrač može da izabere jednu kartu od svojih karata, i spaja njenu vrednust sa vrednošću jedne ili više karata na talonu.
| | |
| --- | --- |
Koja igra je bolja?
---
This is some text prior to the author information. You can change this text from the admin section of WP-Gravatar
 Maher!
Read more from this author
---